Top 10 Great Reasons to Get Married in Sitges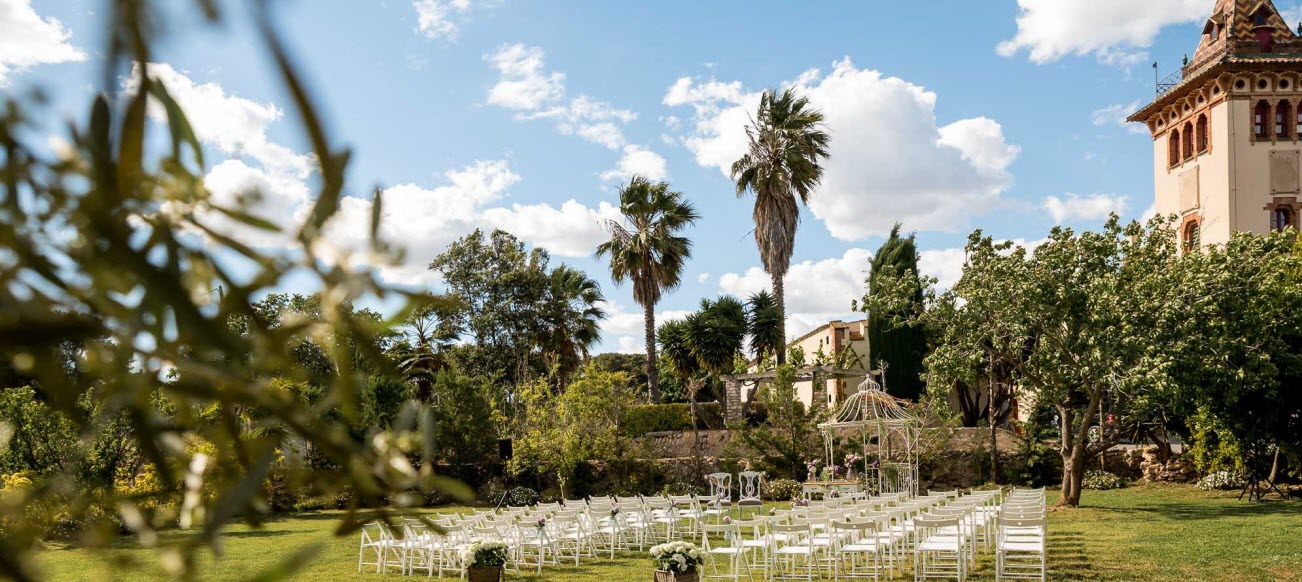 Sitges is a highly popular wedding destination for couples from all over the world. There are many reasons why Sitges is such a popular choice for weddings, so we thought we would ask around the Luxury Masias office and compile a list of our 10 top reasons. So here they are:

1. A Perfect Backdrop for Weddings
Often referred to as the 'jewel of the Mediterranean' or the 'St Tropez of Spain', Sitges is a stunning town with attractive old streets, a beautiful seafront, and wonderful sandy beaches. Sitges is also surrounded by the hills of the Garraf Natural Park and the vineyards of the Penedes.

The beautiful architecture, the rolling green hills and vineyards, and the deep azure blue of the Mediterranean sea provide the perfect backdrop to make any Sitges wedding feel romantic and special.
2. A Unique & Welcoming Ambience
Sitges has its own incredibly unique ambience that has originated from its roots as a bohemian enclave for artists, intellectuals, and writers over the last 200 years. Notable residents included Santiago Rusiñol, a Spanish poet, painter and playwright and a leading light of Catalan modernism. 
During the 1960s, Sitges was the epicentre of Spain's counterculture movement, a liberal antidote to the ultra-conservative strictures of Franco's dictatorship. This heritage is still evident today and is a major influence in producing the laid back, welcoming and gay friendly atmosphere that this forward-looking and easy-going town is famous for.
3. A Great Climate for Outdoor Weddings
The climate in Sitges must be one of the most comfortable in Europe and the area enjoys several months of weather that is perfect for an outdoor wedding event. Winters are generally mild, dry and sunny and, although the summers are typically Mediterranean, Sitges does not experience the intense and stifling heat that is common in other areas like Greece, Italy and southern Spain.

The springs and autumns in Sitges are perfect for outdoor weddings and these are the most popular times for couples from overseas who want to tie the knot here. The warm and sunny days are complemented by comfortable evenings. Even on the odd day when it does rain it is usually short lived and doesn't cause significant disruption.

The most popular times for weddings in the Sitges area are from mid-April through to the end of June and the months of September/October. Venues get booked up well in advance during these peak months, so if you are planning on getting married in Sitges during this time you will need to start looking at least a year in advance and even two years if you want the best possible choice of venues.
4. Easy Access for The Wedding Party and Guests
Sitges is extremely well connected and could not be easier for the wedding party and guests to get to. Barcelona airport is just 20 minutes by car and there are two other international airports (Girona and Reus) within a 90-minute drive. All three airports have fast and direct motorway access to Sitges. Sitges also has a fast and frequent rail service to Barcelona and a direct bus service to the airport.
5. World Famous Gastronomy
Catalunya is world-famous for its cuisine and wines. In fact, the region boasts 54 restaurants with one or more Michelin stars. The standard of restaurants in the Sitges area is exceptionally good and the world-famous cava producers like Freixenet and Codorníu are located just 45 minutes away. There are also some excellent red wines produced in the area.
Local catering companies are proud to promote the strong regional tradition of producing fine foods and wines, and this is reflected in both the quality and the range of wedding catering available in the Sitges area. However, there is also a strong international influence on Catalan cuisine and local providers are happy to create menus to suit all tastes and dietary requirements.
6. Amazing Wedding Venues
The history and heritage of the Sitges area has left a wonderful legacy of elegant, timeless, and historic architectural gems that are the perfect choice for a romantic destination wedding.
The choice of wedding venues around Sitges ranges from beautiful wine estates nestling amongst the vineyards to magnificent country mansions (Masias) with delightful grounds and stunning views. All venues have fantastic outside spaces and private swimming pools and the grounds have been designed specifically to accommodate outdoor weddings.
7. High Quality Wedding Services
Sitges has a well-established and evolving wedding event industry and so the quality of the service providers from caterers to wedding planners is exceptionally high.
The proximity to Barcelona, which is itself an important and fast developing international business events and conference centre, means that the standard of catering and event management is much higher than you would expect in most other Mediterranean destinations.
8. A Top Gay Friendly Wedding Destination
Sitges has been a popular LGBT holiday destination for over 30 years and the gay community happily co-exists side by side with both the local community and other visitors.
The gay friendly and welcoming nature of Sitges has naturally led to the town becoming a top international gay wedding destination and many LGBT couples from all around the world tie the knot here every year.
9. A Great Value for Money Wedding Destination
Prices in Spain have risen in recent years compared to other countries and the popularity of Sitges and its proximity to Barcelona does make it one of the more expensive areas of Spain. However, the uniqueness of Sitges and the quality of both venues and services is definitely worth the additional expense. Also, a wedding here in Sitges is still a lower cost option than many other international wedding destinations.
10. Because Luxury Masia are here to help!
Luxury Masias is based right here in Sitges and so we have an intimate knowledge of both the area and the venues, and we have access to the absolute best service providers.
So please get in touch if you are thinking of getting married in the Sitges area and we will help you find the perfect venue and assist with all of your wedding day arrangements